The sweetest little Jackapoo
Jeani
Jeani's owner Joanna contacted us with an idea to have a necklace made of her beloved Jackapoo Jenani. The Jackapoo combines the energetic and playful nature of the Jack Russell with the affectionate and curious Toy Poodle.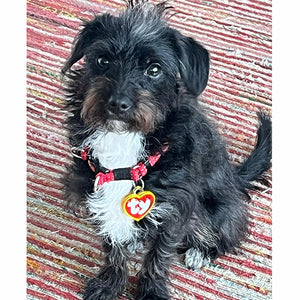 Distinctive little dog
Jeani is a tiny little dog, but she looks so full of personality. She has some very disctive markings, including her white chest and little bunch of white hairs on the top of her head!
We cut Jaeni's components out of layers of sterling silver before soldering her together. Although her coat is mainly black and white there are some areas of brown around her muzzxle. So after oxidising and engraving her main markings, we added a touch of rose gold plating to her muzzle area.
We also cut into the silver using a handsaw to make sure the little spiky hairs on her head were visible.
Jeani gave us a review!
"Thankyou Fresh Fleeces. Arrived today on my special day - a year at my Forever Home, so mummy is so pleased!"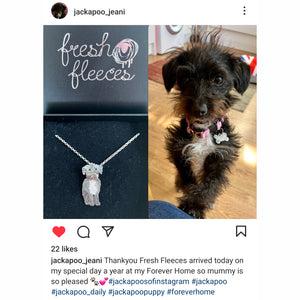 Read more pet jewellery stories...
Scottie and Tinners
Two cats on a necklace - double the love!
Meet this lovable duo
Pixie
This stunning Podenco dog was so loved by her owner Kerry.
Read Pixie's story
Jasper
We made a silver and rose gold necklace of this gentle giant.
Read his story