Jill was heartbroken when her striking Maine Coon died
Willow
"I was wondering if you could create a necklace of my Maine coon Willow who I have recently lost after 11.5 years together." Jill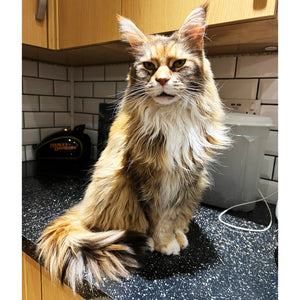 A necklace to celebrate happier times
Willow was such a stunning cat, with a striking outline and a range of complex colours in her beautiful coat.
We cut her main component pieces of tail, body head and face from sterling silver before soldering the layers together to recreate her distinctive shape. Her thick coat was made by deeply engraving the silver following closely the way her fur lay.
The Willow necklace really came to life once we started adding layers of oxidised silver, gold and rose gold plating to build up the rich colours of her coat.
With me forever
"Well she arrived on Friday (my birthday) she's beautiful and so heavy (in a good way). You can see the amount of silver in her, plus all the workmanship. I'd just like to say a huge Thank you, I have Willow with me forever now and I can show her in all her glory!"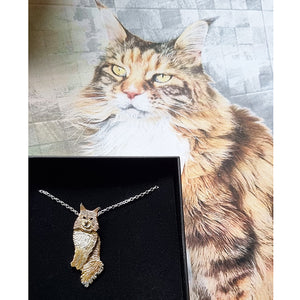 Read more pet jewellery stories...
Jasper
We made a stunning necklace to look like this Newfoundland.
Meet Jasper
Scottie and Tinners
Two beautiful cats in one necklace.
Read their story
Pixie
Kerry commissioned a necklace of her beloved Podenco.
Meet Pixie