A gentle little dog who was missed by his family
Ziggy
" Hi there, sadly we just lost our Jack Russell Ziggy to cancer and I would love a necklace as it seems the perfect way to honour him. Is it possible to customise the face and ears and also he only had half a tail. He was such a sweet soul, as hopefully you will see from the photos, and my husband and I are heartbroken! But grateful we had him in our lives." Gayle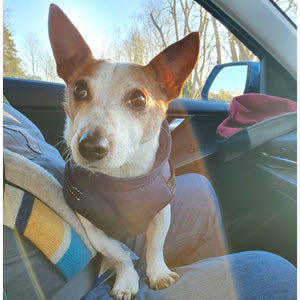 Such a sweet little dog
When Gayle sent us through the photos of Ziggy, our team were struck by what a gentle soul he looked. we can often get a glimpse on animals ' personality from their photos and Ziggy looked so calm and quiet.
As well as Ziggy's distinctive physical features, it was important for us to portray as much of his personality in the final piece of jewellery,
Gayle was very happy!
"Oh I love it! It's got Ziggy's soft, sweet look and I love how you've done the ears. Many thanks."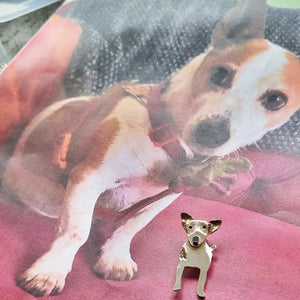 Read more pet jewellery stories...
Scottie and Tinners
Two stunning cats in one necklace
Meet them here
Pixie
We made a necklace almost as beautiful as this Podenco dog.
Read her story
Jasper
This handsome Newfoundland inspired Ditte's necklace.
Meet Jasper