The sudden death of our designer Avril's 2-year-old rescue dog Inspired our silver dog jewellery
Gone but not forgotten
"Time stopped. I didn't understand what was happening. He didn't make a sound and just slipped away."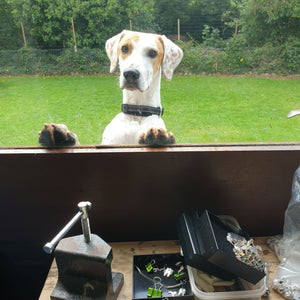 The photo above is of Monty, the inspiration behind our range of silver dog jewellery.
Monty came to live with us in September 2020. He was a 2 year old rescue dog who had started life as part of a Harrier Hound hunting pack.  We don't know much about his history, but the scars on his face and his nervous disposition around men, led us to believe he didn't have the best of starts.
He instantly bonded with me and didn't leave my side.  This photo shows him checking I was still there when working away at my jewellery bench.
Sadly, we only had 3 short months with him.  On 22 December we had a family day out to a local beach and it seemed like he was having his best day ever.  Racing in and out of the sand dunes with our children and playing on the beach.  He came running over to see me walking by the sea, and just lay down.
Time stopped.  I didn't understand what was happening. He didn't make a sound and just slipped away.
I'm in tears typing and if you have ever loved and lost a pet then you will know this feeling. We only knew him for such a short time but he really was a special dog. 
He inspired me to create a range of dog jewellery for people to have a permanent reminder of their love for a 4 legged friend. We now have over 40 silver dog breed necklaces and also have a service for you to have a piece of jewellery made that looks just like your dog.
Avril Manderson, Designer 
40 Breeds and Counting!
We now have over 40 breeds of silver and gold dog jewellery in our collection. From Dachshunds to Springer Spaniels, Border Terriers & Labradors.
Meet all our dogs
A lasting reminder of your pet
Celebrate the unique spirit of your special pup with a custom jewellery piece crafted by our talented silversmiths. Our dog recreations capture the personality and characteristics of your beloved pet, creating a lasting memento to be cherished forever. Perfect for birthdays, anniversaries or to remember a much-loved companion.
★★★★★

A fantastic company beautifully crafted jewellery. Gorgeous silver sheep jewellery that comes presented in lovely packaging.



Kelly Huck

Cumbria, UK
★★★★★

Absolutely amazing products. Quality is perfect and stunning details, such wonderful products. Thank you so much Fresh Fleeces.



Alex

Urana, Australia
★★★★★

I love my necklace!! Thank you so much! Excellent customer service as well.



Renee Snyder

California, USA
★★★★★

Love my 'Suffolk' sheep style jewellery.
Personally I highly recommend Fresh Fleeces, don't hesitate, go treat yourself!



Clare Ashworth

Cowes, UK
★★★★★

Great service and fast delivery. Thanks Fresh Fleeces!

Mick Foster

Leeds, UK